3 January 2023
Lots of news!
Van den Hoven Jachtbouw is looking forward to taking part in BOOT Düsseldorf from 21 to 29 January 2023. We'd love to see you in Hall 7A stand C11 so that we can share details of the brand-new Executive 1700 Mk2 which will be due for launching this spring, our Voyager series – the Voyager 50 (see video) was recently delivered – and the newly commenced build of the stunning Voyager 56 Fly (see images).
To book an appointment at BOOT Düsseldorf, send an email to Bart or Julian van den Hoven or call us on +31 416 319 183. It is a great show to share more information and discuss your ideas over a good cup of coffee or tea.
BOOT Düsseldorf opening hours:
Daily: 10.00 – 18.00
Location:
D-40474 Düsseldorf, Am Staad (Stockumer Höfe)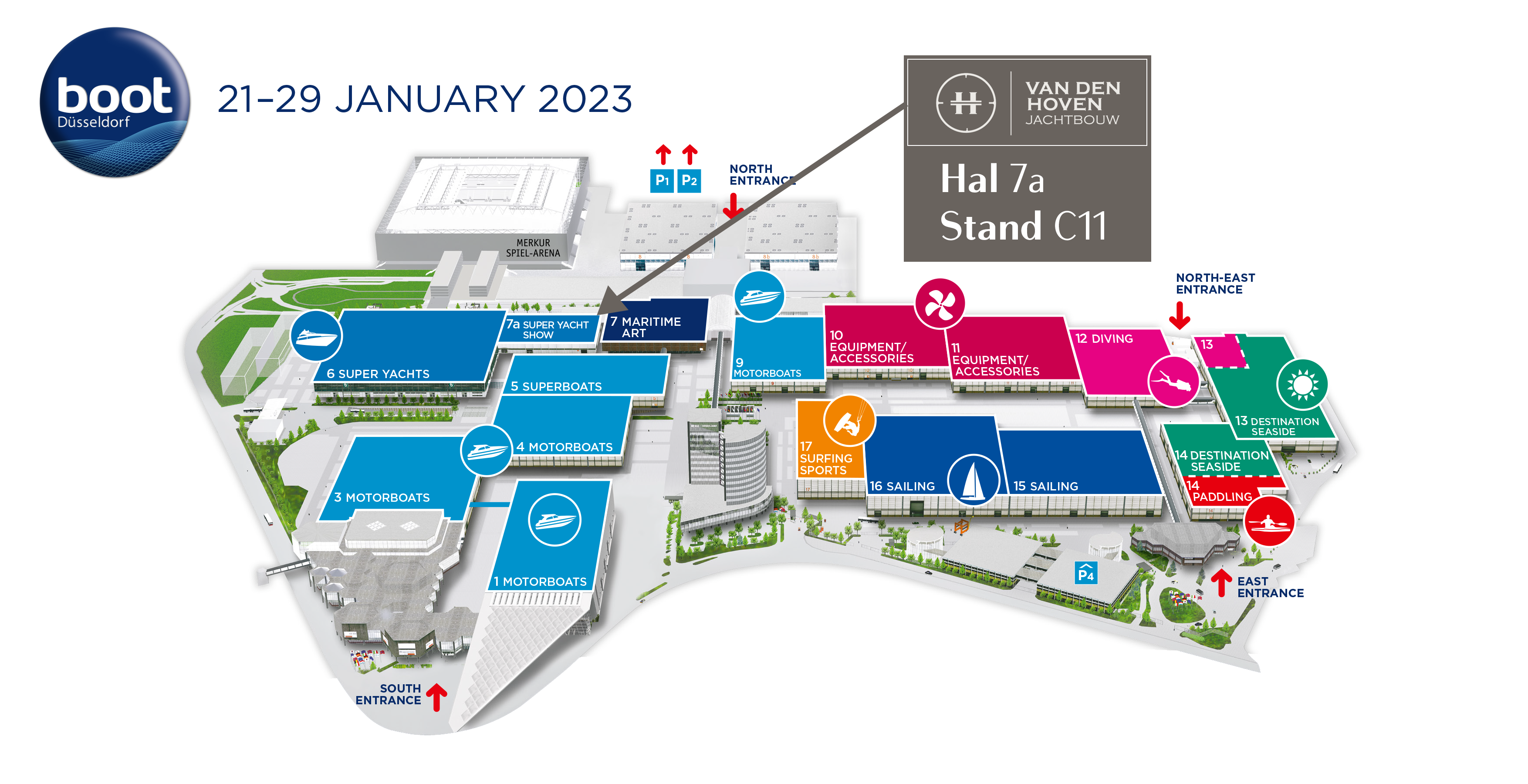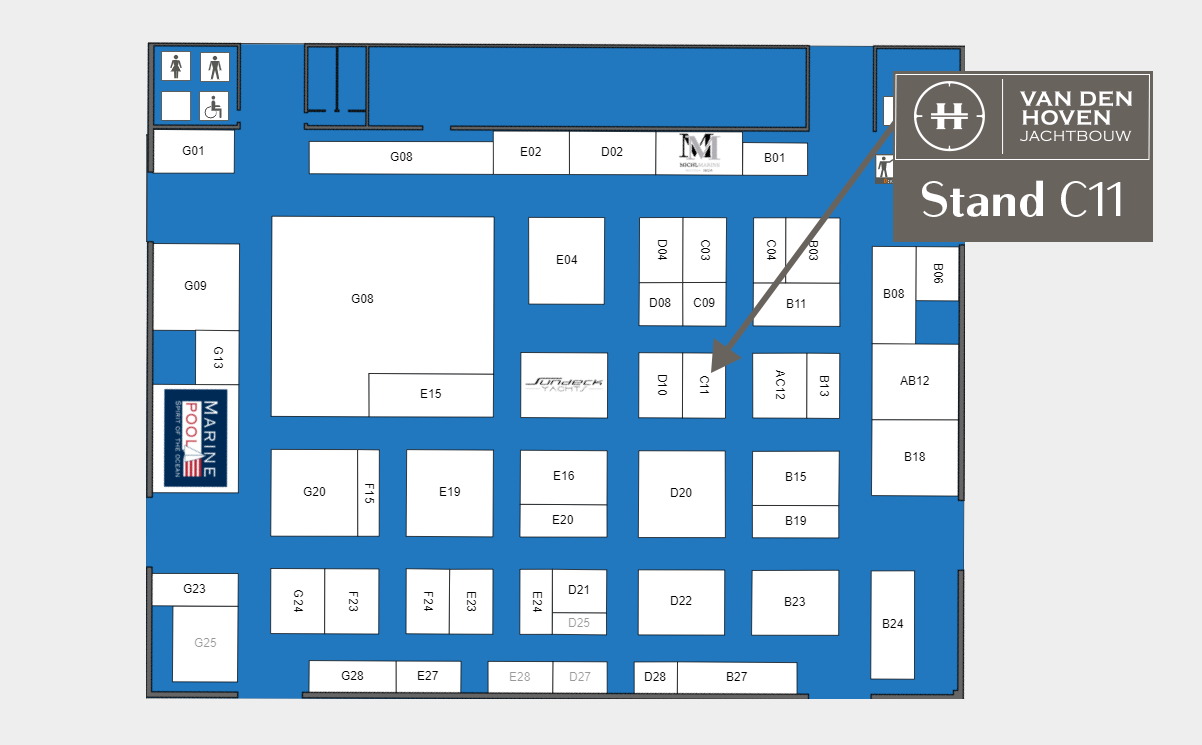 First Voyager 50 Coupé completed!
And we're really pleased with the result as she's turned out even better than we expected! All the proportions of this elegant motoryacht are just right and the colour combination makes a striking impression.
With the first miles now covered we can safely say that this agile yacht offers an exceptional performance. Easy to sail, moor and operate (see video here), she features a spacious master suite with private bathroom and two guest cabins with additional bathroom. The gangways provide plenty of space to walk around in comfort, while the large and pleasant aft deck is ideal for al fresco lounging and dining with loved ones. The stern includes some serious storage space for bicycles, water-skis and SUPs, accessible via an electrically operated hatch. Twin 480 hp engines provide speeds of up to 22 knots.
Second Voyager 50 Coupé
Buoyed by this success, we've already started construction of the second Voyager 50 Coupé. Please contact us if you'd like to receive more information on this yacht, which is due for delivery in the summer of 2023. To book an appointment at BOOT Düsseldorf, please email Bart or Julian van den Hoven or call +31 416 319 183.
The brand-new Voyager 56 Fly
Van den Hoven has started development of the Voyager 56 and will later also create a version without a flybridge. Click here to see the various models.
 With its hull length of 17.30 metres and design by René van der Velden – responsible for the entire Voyager series – the 56 is a perfect addition to the Voyager line-up. Click here for detailed information, layouts and images of the Voyager 56 Fly.
Michelle or Bart van den Hoven will be happy to share more information during the boat show over a cup of coffee or tea. To arrange a meeting in advance simply email Bart or Michelle or call us on +31 416 319 183.

Fifth Executive 1700 Mk2 for you?
We have now embarked on the final stage of the build of the Executive 1700 Mk2. This yacht has a larger superstructure, widening the interior space by 29 centimetres.
The 1700 Mk2 will be ready in the spring of 2023 (see images of her sister yacht here). Would you like to sail your very own brand-new 1700 Mk2 next year? We could still implement your specific wishes or changes now.
To book an appointment at BOOT Düsseldorf, send an email to Bart or Michelle van den Hoven or call us on +31 416 319 183. We would very much like to hear your thoughts and ideas.
Pre-owned Van den Hoven yachts
Van den Hoven also has a select number of pre-owned yachts for sale. To ensure we know everything about these pre-owned boats – inside and out – we only sell yachts that we built ourselves. This is the only way we can guarantee the quality for which Van den Hoven is renowned. We currently have an Executive 1850 Flybridge and an Executive 1700Mk2 for sale.
See you at BOOT Düsseldorf!
To book an appointment, please send an email to Bart or Julian van den Hoven or call us on +31 416 319183. Michelle van den Hoven will not be present at this year's BOOT Düsseldorf due to maternity leave. It will be a pleasure to meet you at BOOT over a nice cup of coffee or tea.
BOOT Düsseldorf opening hours:
Daily: 10:00 – 18:00
Location:
D-40474 Düsseldorf, Am Staad (Stockumer Höfe)